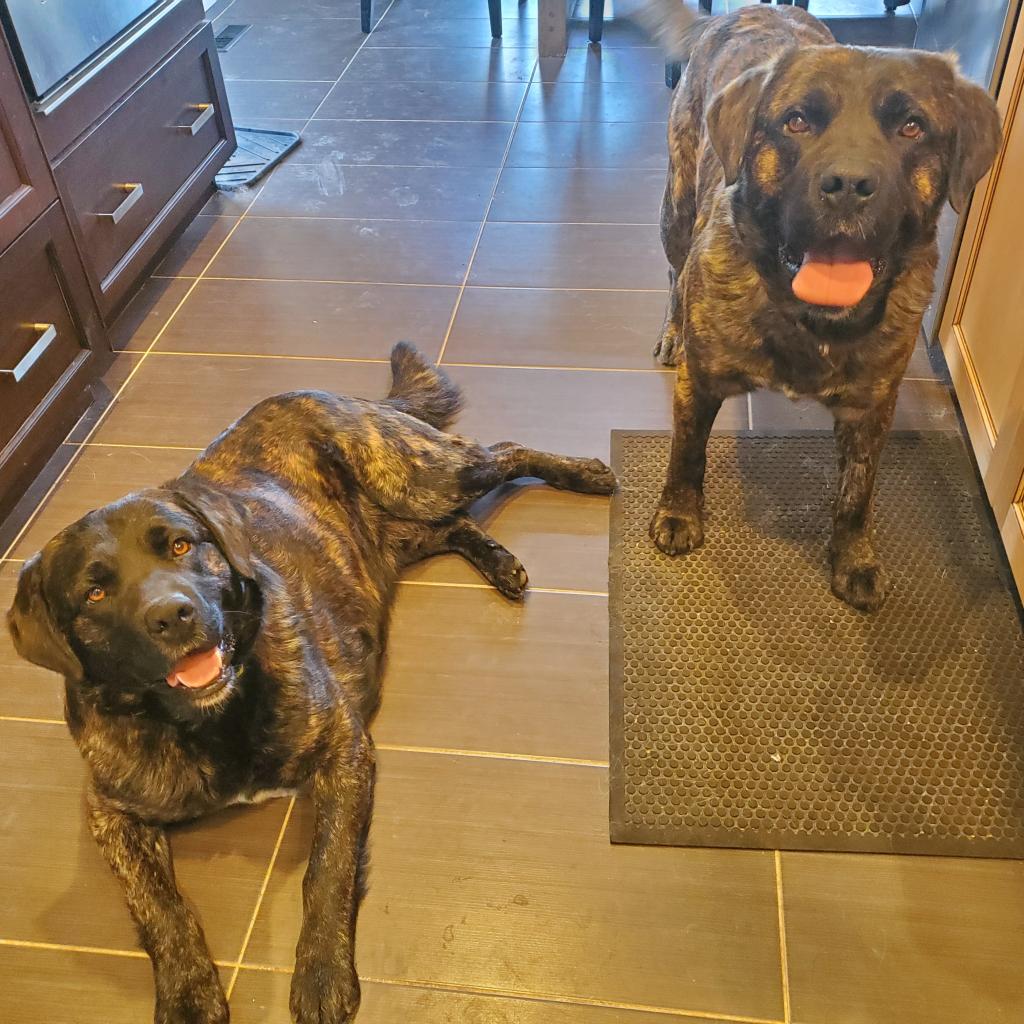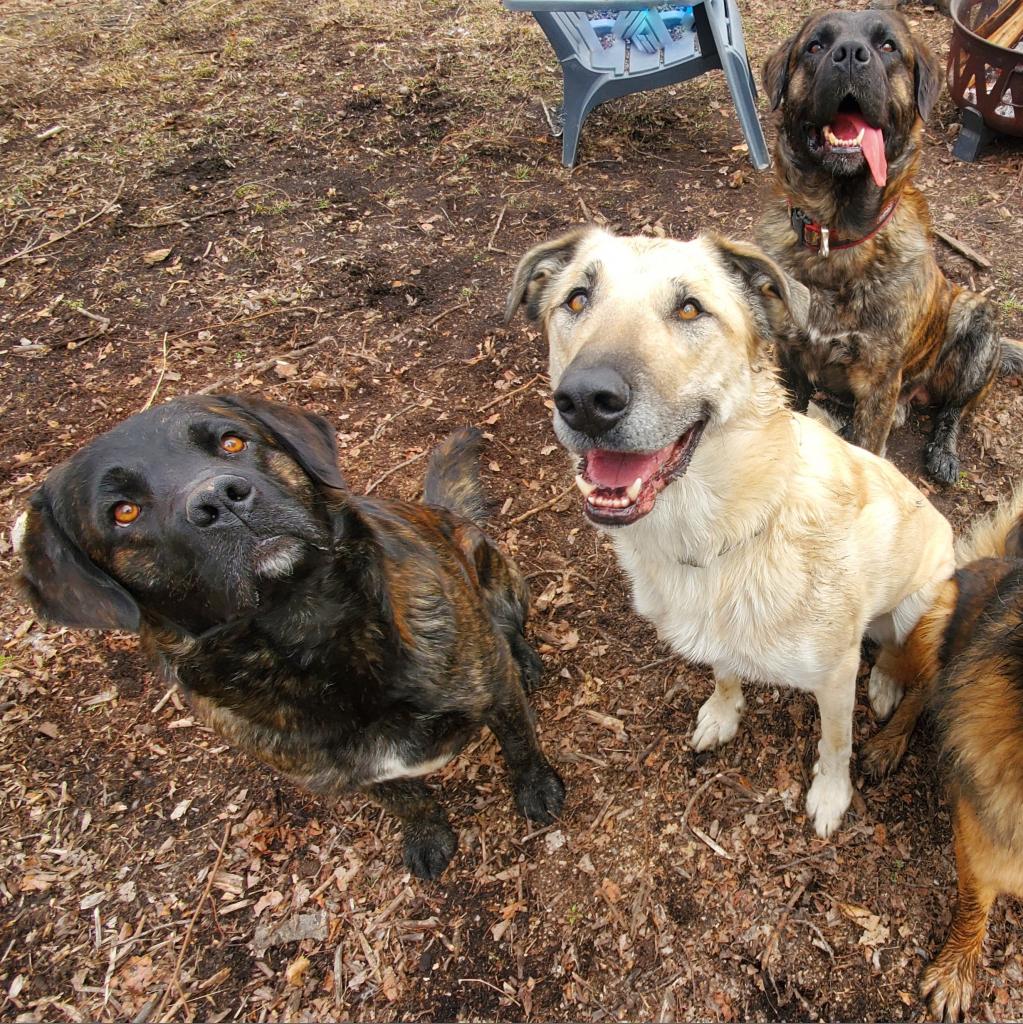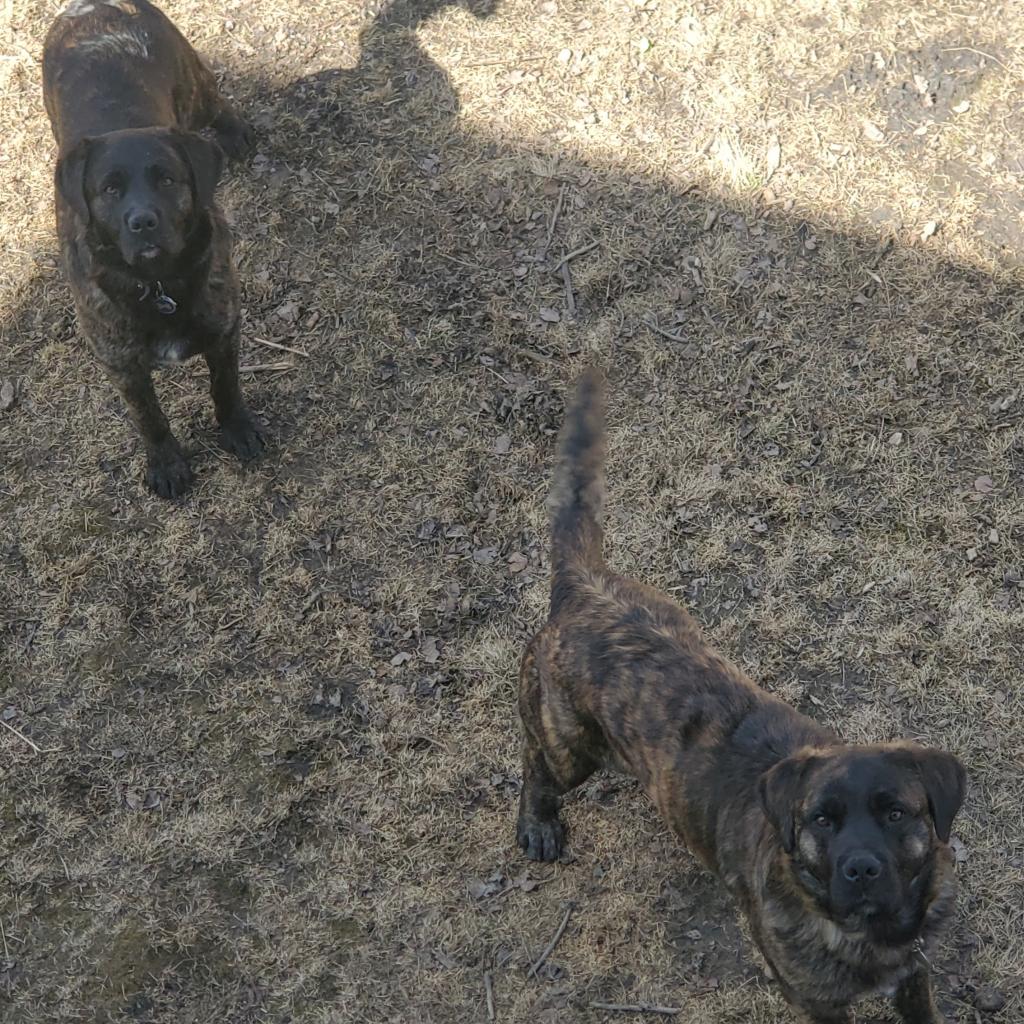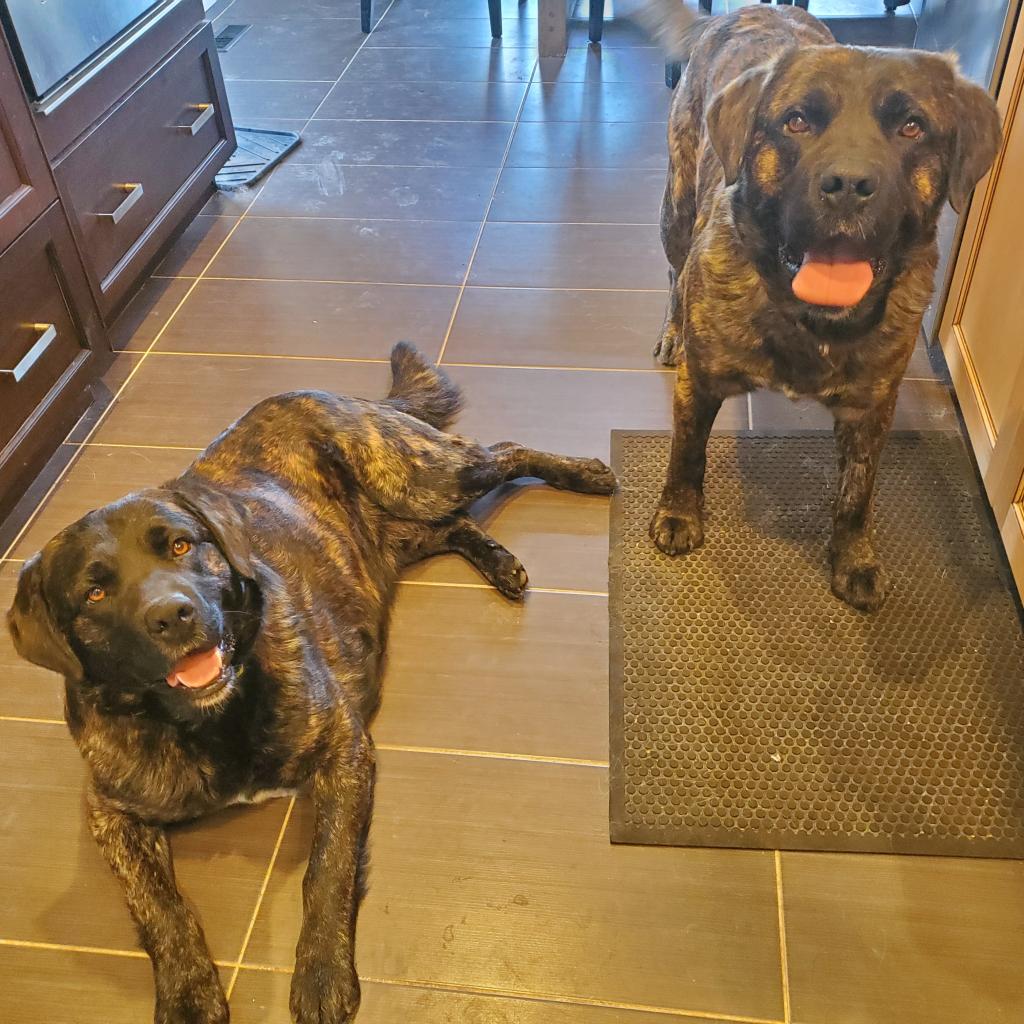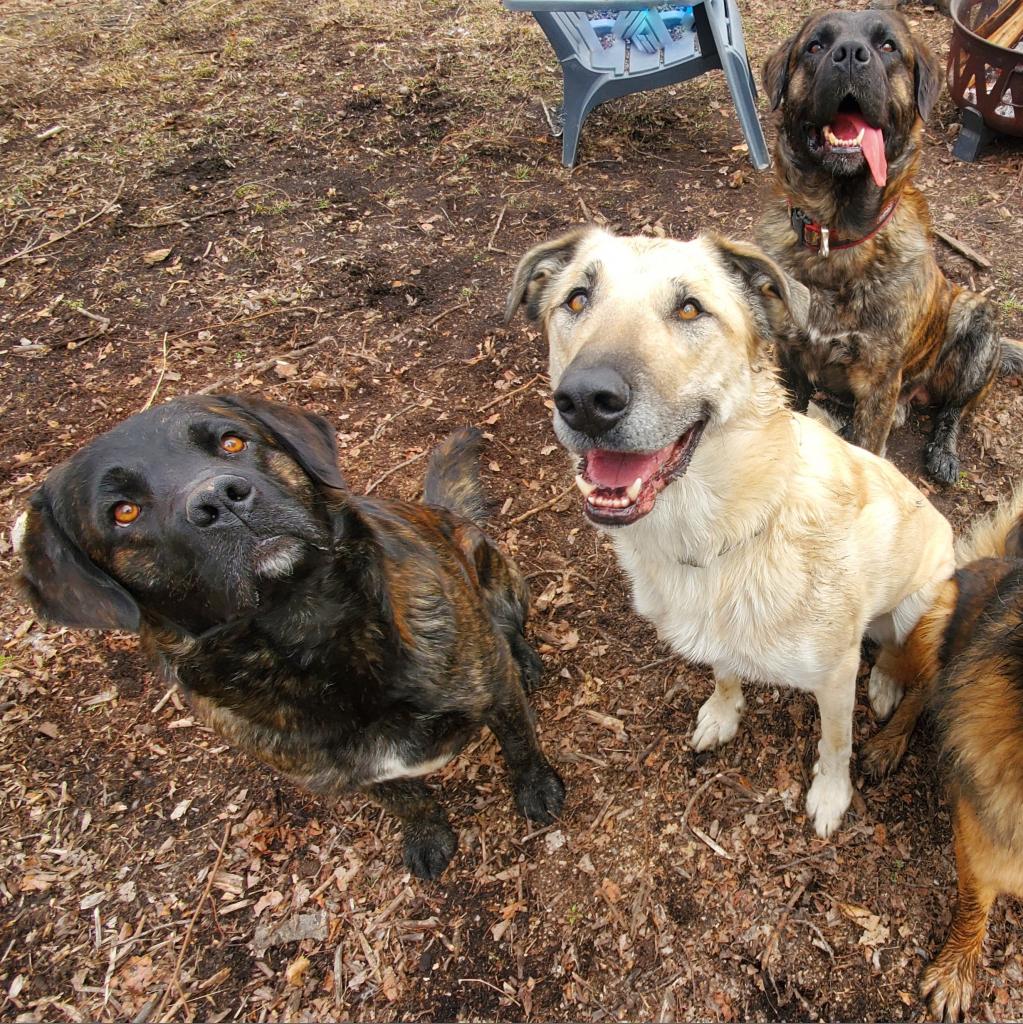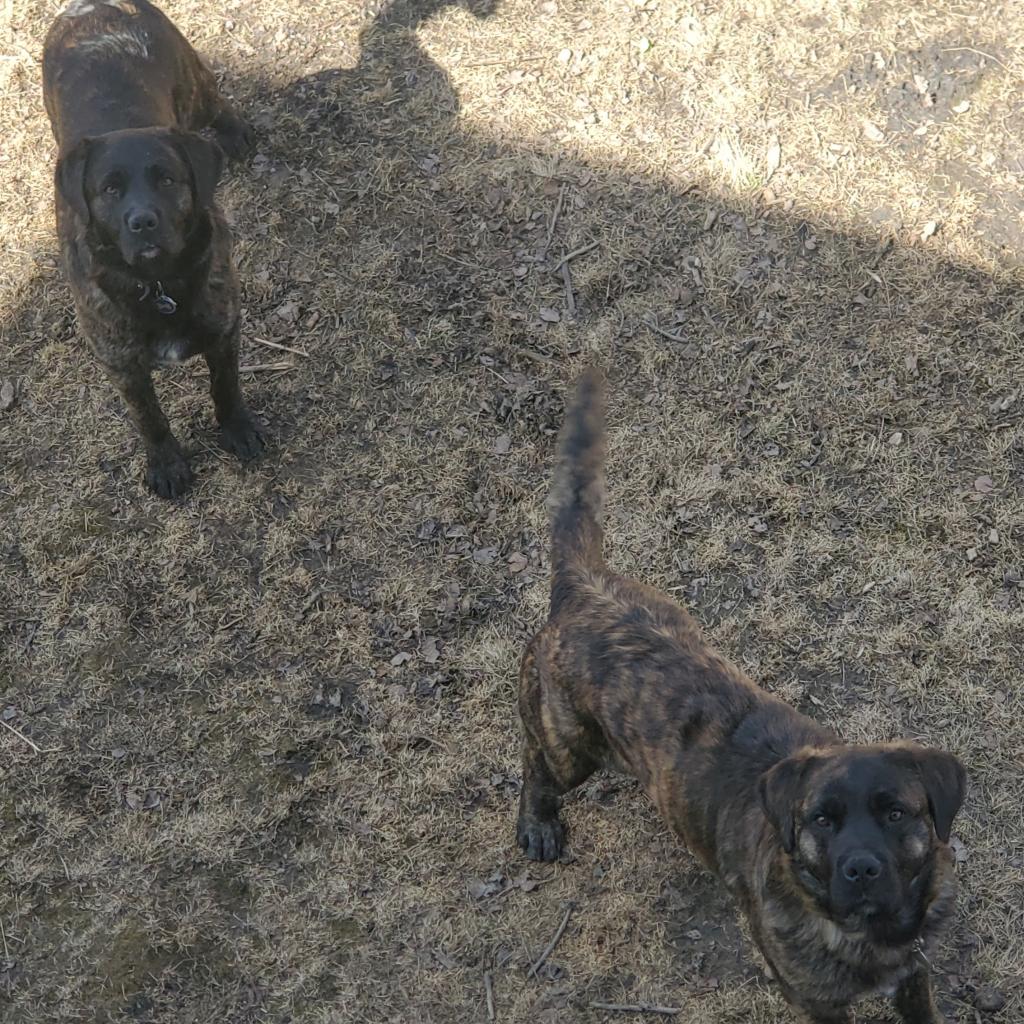 Good Day, how's it going? I'm Bob and this is my brother Doug. Coo-ook-ook-oo-coo-ook-oo-oo, Coo-ook-ook-oo-coo-ook-oo-oo. Today we are going to talk about our topic, and our topic is us! We are two lovable pups looking for someone to take us both into their home together. We can be a bit rambunctious and excitable when meeting people, and MAN do I LOOOOVE giving kisses. My foster mom calls them face washes. Due to how big we are, she thinks little humans wouldn't be the best fit for us as we do not know our own strength, but we promise it is all done with love. My brother Doug will even smile at you with all his teeth when he gets really excited. This can be a bit scary if you don't know it is just because he can't hide his excitement. We calm down and just relax though when not first meeting people or playing out in the yard. We do everything together. Even eat from the same bowl, one bowl at a time if our foster mom doesn't stop us (she said something about me eating too much of Doug's food, but hey, if he isn't going to say anything about it I'm sure not). We have gotten along with our foster fur siblings wonderfully after we were introduced separately (200lbs of dog to meet all at once can be a bit overwhelming). My brother tends to look to me for guidance as I am definitely the more outgoing of the two of us. He has a calmer demeanor and I like to invade your personal space (see face washing above). There is some debate around our age but we are most likely somewhere around the 11 month to 2 year mark so have potential to still get bigger. Doug is the lightweight at around 85lbs where I tip the scales currently at 100lbs. Well, that's about all we have for our topic today, if you want to know more please put in an application to meet us.
No Longer Accepting Applications

Animal Type(s):
Dog
Gender:
Male
Color:
Brown/None
Approx. date of birth:
May 14, 2020
Breed:
Mixed Breed (Large)/Mastiff
Weight:
0 lbs
Intake date:
April 13, 2021
House trained:
Please note: If other cats/dogs in your home are not spayed/neutered, we may deny your application. SCARS exists due to lack of spaying/neutering and it is our goal to end this cycle. If there is a documented medical reason for your animal to not be spayed/neutered, we will work with you.