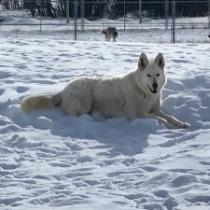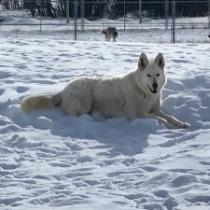 Hello SCARS, Im White Fang better known to the gang as Fang, I came to SCARS with my Pal Wendy, she has been adopted. I never fully learned to trust you two leggers so I never made it up for adoption, I avoid contact at all costs, and if you pushed me I'd probably bite. I was picked up during a round up, by picked up I mean trapped in a humane live trap. My friend Wendy liked people much more than me. Although sometimes my foster mom can give me a little pet, especially when I am excited to see her. She learned that I have a tattooed ear meaning I was someone's dog and I was neutered at a task force clinic previously, sadly we cant read the tattoo clearly so we were unable to get a full history. I love other dogs, but thats about it. So how did I end up so lucky that I got a spot to stay with SCARS, Well thats not easy to explain you see when SCARS gets in a feral or semi feral dog we can not always safely place them as pets, these leave hard sad decisions to be made. However sometimes whether kismet or fate the stars align, our dearest Ranger had passed leaving a hole in our hearts and our kennels. Ranger lived with Athena and Athena had a great respect for Ranger and loved him dearly and to put it bluntly she's not the easiest to live with, she hoard her toys and her food and her bed, and has a low tolerance for dogs in her space so it takes a particular type of dog to live with her, one that gives the necessary respect but also one that hold their ground and wont be pushed around. Not every dog can tow that line so to speak but Fang can, Athena respects him and plays with him but he gives her her space and they have a great relationship which allowed Fang a safe space to stay and be Fang.
Sponsored

Animal Type(s):
Dog
Gender:
Male
Color:
White/None
Approx. date of birth:
April 14, 2014
Breed:
Husky, Siberian/Shepherd, German
Weight:
60 lbs
Intake date:
April 6, 2017
House trained:
What's a sanctuary animal? Sanctuary animals are permanent wards of SCARS due to medical conditions or behavioral issues and we are not likely to ever find an adoptive family. SCARS is committed to giving these animals a home and the love, care and attention they deserve! We house them at our two main intake facilities. We look to businesses to sponsor Sanctuary Animals to help us offset the cost of housing them.
Click here learn more about our Sanctuary Animals
Please note: If other cats/dogs in your home are not spayed/neutered, we may deny your application. SCARS exists due to lack of spaying/neutering and it is our goal to end this cycle. If there is a documented medical reason for your animal to not be spayed/neutered, we will work with you.